The Three Spider Rocks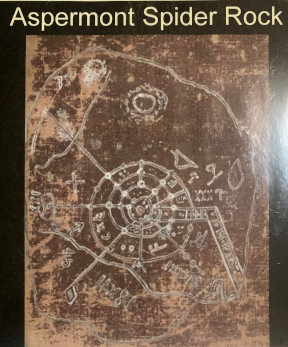 For how to order Bill's books, click here.
PROBLEMATIC! That is what describes the 3 Spider Rocks. Each were discovered in the early part of the 20th century (1902-1911). Each were found buried in three different Texas Counties (Stonewall County, Callahan County, and Fisher County). The locations where these three stones were discovered form a near perfect isosceles triangle. Some of the symbols, Arabic and Roman numbers, and letters of the Latin alphabet that are carved on the three Spider Rocks are exactly the same. Their discoveries accelerated searches and prolonged endeavors for perceived lost and hidden Spanish silver, gold, and/or other grails.
In 1989/90, George Washington Copeland (Fort Worth, TX.), W.T. (Bill) Farmer (Mineral Wells, TX.), Raymond Boyle (Mineral Wells, TX.), Tom Jones (Arlington, TX.), Terry Hutson (Abilene, TX.), and Bob Odom (Nashville, TN.) were using heavy earth moving equipment northeast of Clyde, Texas1, near where in 1902/05, D.M. Arnold and John Sembritzki chopped the entombed Callahan County Spider Rock from within the roots of a large oak tree2.
I was working at Norton AFB in California at the time of Copeland and company's treasure hunting activities near Clyde. He would phone, or mail me an occasional letter and tell me of their progress. It sounded like they were having fun. And if words are leaves and action is fruit...it certainly wasn't for lack of trying...that they were attempting to make their dreams come true.
I had already read...some... about the Spider Rocks in J. Frank Dobie's works, LEGENDS OF TEXAS 3 and R.E. Sherrill's book, HASKELL COUNTY HISTORY4. Sherrill briefly spoke to the "great number of bones, judged to be human bones that were uncovered deep under the ground off the northwest corner of Haskell County" and "the copper deposits and mining shafts of unknown age" in the northeast corner of Stonewall County. Steve Wilson's Wichita Falls Times newspaper articles (beginning in 1963), Argosy Magazine, and True West magazine articles had also been read. So... I knew a little about the Spider Rocks.
Upon my return to Texas, I began searching the whereabouts of a copper disc discovered in the late 1960's, or early 1970's5, east of Kiowa Peak (Stonewall County, TX.) by Clyde Ormin Duke6 and Dan Ferris7.
After more than several years of searching, on November 26, 1997, I traveled from Lake Palestine (in East Texas) to Abilene, Texas, where I purchased the "one eight-inch thick disc, a mere one and three quarters inches in diameter"8 disc pictured with article. On one side of the disc is a representation of the stone discovered near the confluence of the Salt and Double Mountain Fork of the Brazos River in Stonewall County. On the opposite side is a representation of the rock found northeast or Clyde, Texas, in Callahan County, Texas.
Many people believe the three Spider Rocks are maps - but maps to what? Hidden valuables? Gold? Silver? Copper? Church grails? Old Mines? If the copper disc also is in-fact a map - the mapmaker must have had knowledge of both the Stonewall County Spider Rock and the Callahan County Spider Rock.
Townsley has researched the Spider Rock enigma for almost 33 years. You can find his books about this most interesting, puzzling Texas history subject on his author's page. If you would like for him to do a in person event presentation - contact information is also located on the author's page.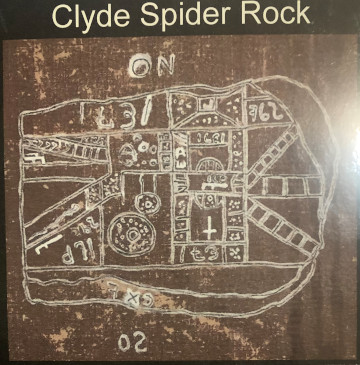 1 Discussions, letters/correspondence, tape recorded conversations in author's private collection.
2 Steve Wilson, 2004, THE SPIDER ROCK TREASURE, A TEXAS MYSTERY OF LOST SPANISH GOLD, Eakin Press, A Division of Sunbelt Media, Inc., P.O. Drawer 90159, Austin, Texas 78709.
3 R.E. Sherrill, "Lost Copper Mines & Spanish Gold", edited by J.Frank Dobie (1924) Texas Folklore Society's, LEGENDS OF TEXAS.
4 HASKELL COUNTY HISTORY by R.E. Sherrill, published for the Haskell County Historical Society by The Haskell Free Press, Haskell, Texas, 1965.
5 Author's original notes to include letters between Bill Townsley and Dan Ferris; directions to J. Duke Field's home in Abilene, Texas, written by David Auldridge November 1997.
6 Dr. Duane K. Hale, Robert Kyker , Johnny Terrell, Treasure Magazine, "Mystery of the 3 Spider Rocks" 1989/90.
7 8 Steve Wilson, THE SPIDER ROCK TREASURE, A TEXAS MYSTERY...Eakin Press... 2004
Page contents copyright of Bill Townsley