About the Author - Bill Townsley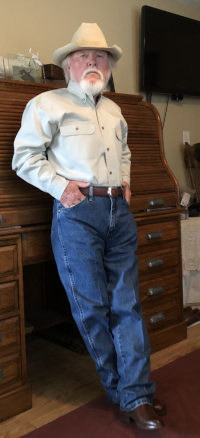 Bill Townsley
817-881-7008
BILLTOWNSLEY5@GMAIL.COM



AUTHOR • RESEARCHER • COLLECTOR
Colonial Spanish
Mexico
Antique Texas Maps
Antique Mexican Maps
Old West Items
---
BOOKS BY TOWNSLEY
ABRIDGED NOTES OF A SPIDER ROCK TREASURE RESEARCHER & OTHER HISTORY EVENTS IN TEXAS, Volume 1
ABRIDGED NOTES OF A SPIDER ROCK TREASURE RESEARCHER & OTHER HISTORY EVENTS IN TEXAS, Volume 2
THE SPIDER'S WEB by George A. Mitchell, co-published by Margaret Mitchell Eilers & Bill Townsley
OLD BIG COUNTRY WEST TEXAS HISTORY MORE MYSTERIES THAN ANSWERS
---
ARTICLES WRITTEN BY TOWNSLEY
Haskell & Stamford Star Newspaper "The Spider Rock Mystery" March 20, 2009; Series beginning March 18, 2011, "Big Country West Texas History"; Series beginning 2014, "More Old Big Country West Texas History".
Goldthwaite Eagle Newspaper, 2002, "Treasure at Dry Pond"
Enchanted Rock Magazine, "The Bowie Mine, A Literature Review", "The Spanish Treasure of Dry Pond", "Spider Rock Disc of Central Texas"
West Texas Historical Association Year Book, Volume LXXXV 2009, Southwest Collection/Special Collections Library, Texas Tech University, WTHA Box 41041,Lubbock TX. 79409-1041, "Sleuthing the Mysteries of West Texas' Spider Rock Treasure".
---
BOOKS AVAILABLE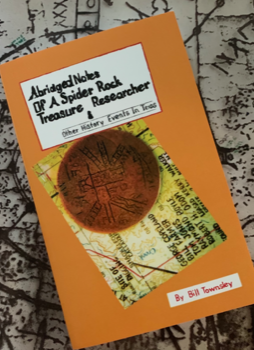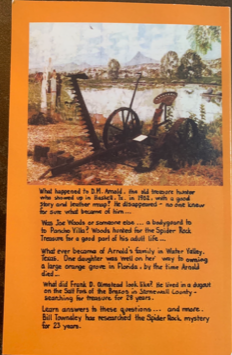 ABRIDGED NOTES OF A SPIDER ROCK TREASURE RESEARCHER & OTHER HISTORY EVENTS IN TEXAS, VOLUME 1   $35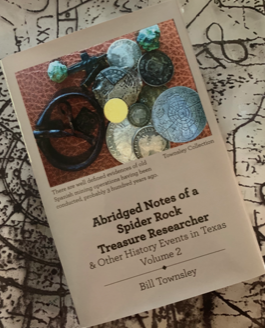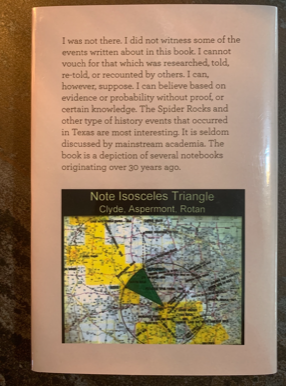 ABRIDGED NOTES OF A SOIDER ROCK TREASURE RESEARCHER & OTHER HISTORY EVENTS IN TEXAS, VOLUME 2   $45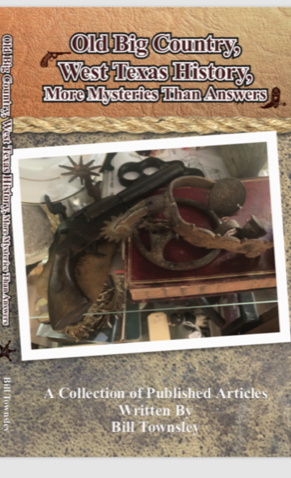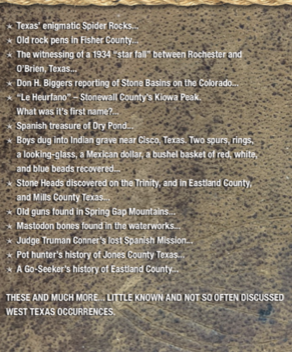 OLD BIG COUNTRY WEST TEXAS HISTORY MORE MYSTERIES THAN ANSWERS   $35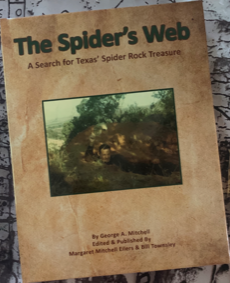 THE SPIDER'S WEB - authored by George A. Mitchell (posthumous) co-published by Margaret Mitchell Eilers (George Mitchell's daughter) & Bill Townsley. (Mitchell's 1960's/1970's factual account, study, correspondence with other individuals, theories, and physical search for West Texas' Stonewall County Spider Rock Treasure). Surprisingly, after the death of George Mitchell's son (in 2011) the 50 year old manuscript was discovered in a safe in Angleton, Texas.   $55
To order:
Bill Townsley5@gmail.com
Or
Texas Star Antiques
Haskell, Texas 79521
Phone 940-863-4350
Or
Quanah Acme & Pacific Railway Museum
Quanah, TX. 79252
Phone 940-663-5272 or 940-839-8066
Or
Antique Station
703 N. 3rd Street
Abilene, TX. 79601
Or
Bill Townsley
Alvin, TX. 77511
817-881-7008
Page contents copyright of Bill Townsley
Last Update 12-18-2021