The Treasure of Dry Pond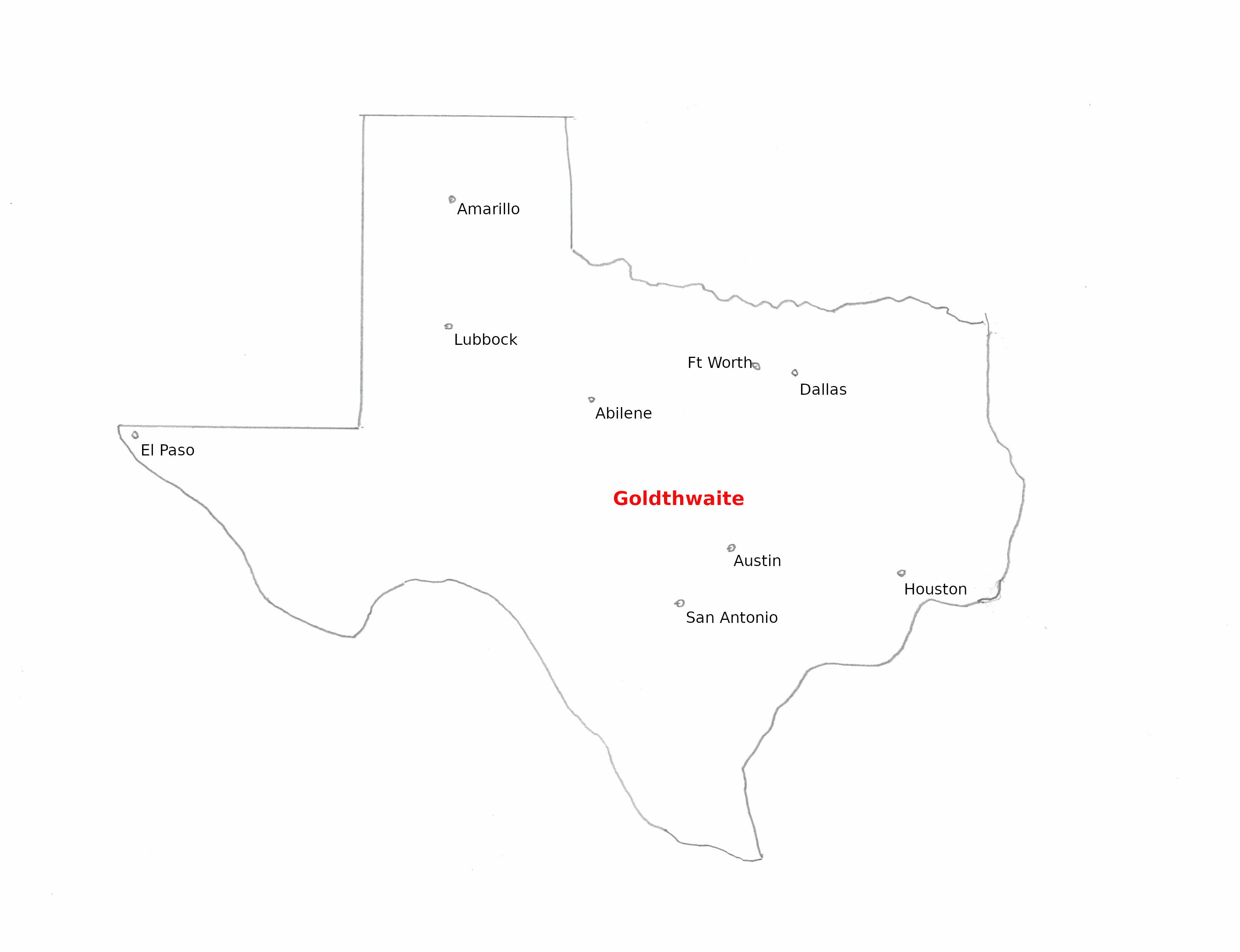 Bill Townsley wrote this article. His author page and a link to purchase his book on this subject and others click here
At the beginning of the last century (1900) the discovery of a rock with a Spanish mule train carved onto its surface; two copper discs with markings on them (one round and one triangular in shape); two copper spikes (hammered into a live oak tree); and three (or perhaps four) copper boxes with Spanish writing on them prompted Dr. James Dyer Kirkpatrick, Will Harris, Bob and Will Urbach, J. T. Prater, and Mr. Barker to seek what they believed was a fabulous Colonial era lost treasure and the remains of a 339 year old Spanish Mission.
In 1900, a foreigner arrived at Mullin, Texas, in Mills County, with a derrotero, or mapa, showing the location of a mission, or mining headquarters. One of the items the foreigner was seeking were two copper spikes embedded in an ancient tree. After the stranger had left the area, two spikes were found in the ashes of a fireplace. A medical doctor, James Kirkpatrick, of Mullin, Texas, who had also been trained as a surveyor took up the search and began drafting a map of the Dry Pond area, the tunnels beneath Dry Pond, ancient foundation ruins, and other points of interest.
Surprisingly, a copy of Kirkpatrick's map had never been published in any newspaper, book, or magazine, until Bill Townsley and David Auldridge published a copy of it in Ira Kennedy's Llano, Texas, publication, Enchanted Rock Magazine (1997). See "The Spanish Treasure of Dry Pond". The 122 year old Kirkpatrick document is every bit as interesting as the discs, hand hammered copper boxes, rosaries, crucifix, and other items that Kirkpatrick and others have discovered at Dry Pond. At least one of the boxes was believed to have a 1762 date associated with it.
We know (because historians tell us) that Fray Nicolas Lopez, custodian of the El Paso missions, along with Fray Juan Zavaleta joined Juan Dominguez de Mendoza's expedition (1683) into the interior of Texas. They traveled possibly as far east as the Colorado River where they remained camped for six months. At this site they built a fortified structure and a crude Mission. The precise location of Mendoza's fort and Fray Lopez's chapel has been argued over by academia for a long, long number of years. Some scholars believe the mission (San Clemente) was located fifteen miles southeast of present day Ballinger, Texas. Jesse Wallace Williams, graduate of Hardin Simmons University at Abilene, historian, teacher, and president of the West Texas Historical Association (1952-1953), concluded the mission was on the South Llano River, a few miles southwest of Junction, Texas, near the present site of Telegraph, Texas. Seymour V. Connor, archivist, author, and historian, placed San Clemente in Menard County, six miles east of Fort McKavett. Some persons, mostly 19th century "money seekers", believe that the actual location of the elusive mission is further northeast in Mills County Texas. But perhaps, the stone foundation that was located at the Dry Pond Site (a few miles northeast of Goldthwaite, Texas) is that of another mission, or Spanish camp. One not recorded by history.
Dr. Kirkpatrick, Will and Bob Urbach, Harris, Pratter and Barker claimed - Spanish colonial artifacts were discovered at the site. In 1954, Barry Storm, of Arizona's Superstition Mountain Lost Dutchman's Mine fame and author of books such as "Thunder God's Gold" and "Practical Prospecting" and a Fort Worth resident, whose name is Jim Mitchell, claimed they also discovered colonial period artifacts at the Pond.
Possibly, Daniel E. Fox, member of the Texas Archeological Society, summed it up best when he said, "...there has not been enough public and financial support for well-designed, intensive investigations, even though archaeological studies have helped to verify the location of Spanish Colonial settlements and have recovered information about material things in eighteenth century Texas.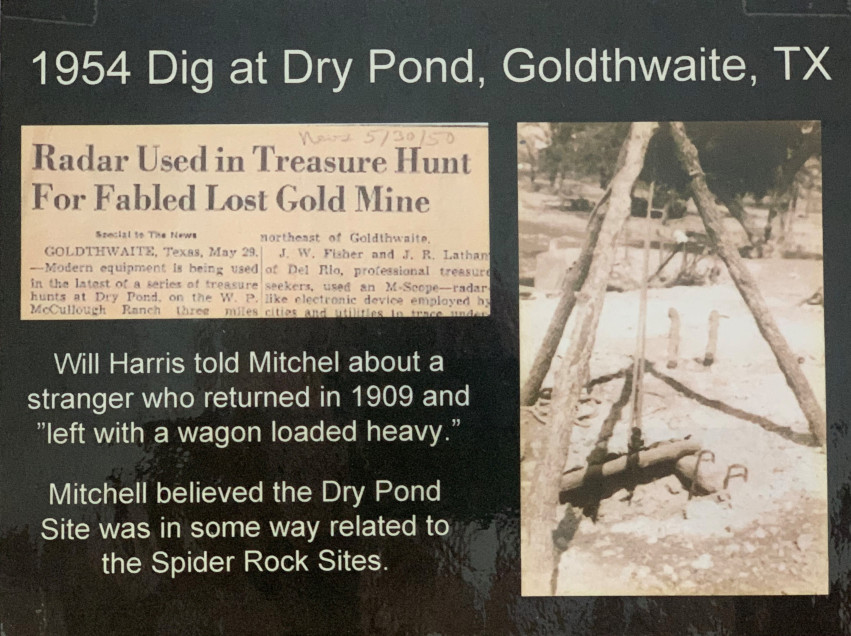 Jim Mitchell, of Fort Worth, Texas, at the time of this writing - is deceased. However, he could, and did tell Townsley, David Auldridge, and Lynn Jones more about the Dry Pond site (so named because it will not hold water for extended periods of time) and the legend associated with that part of Central Texas than any other living man. Mitchell spent over forty years cleaning out the tunnels beneath the Pond, attempting to unravel the secrets, seeking the treasure and other grails possibly hidden there since 1762.

(Together) Mitchell and Barry Storm spent three years cleaning out some of the tunnels beneath Dry Pond. Jim Mitchell said Barry Storm lived on the hill, in his car, during that time. Mitchell said he (Mitchell) had a nice two bedroom apartment in Fort Worth. He tried to get Storm to come and stay at the apartment. But Storm said he was working on another book and he told Mitchell he wrote better if he could remain close to the land...

Mitchell told the authors, "I've made 264 trips from Fort Worth to the Pond in the last 41 years. I never stayed less than two days, or longer than two weeks at a time. If you were to compare the amount of work that I've done to an eight-hour day, five day a week job, it would amount to fifteen years."

When ask if he had ever been in the horizontal tunnels, Mitchell said, "...there were vertical shafts twenty to twenty-four feet deep on the east side of the Pond. Each intersect, horizontal tunnels, which run east and west and southeast. You got a big round hole, it's natural about the center, you'd say. When you drop down to the bottom of it, you got three tunnels and one of them runs out there at the edge of the pond. That would be kind of northwest, roughly northwest. The other runs roughly northeast. It makes a fork. The other one runs southeast. I never did put a compass on them, but I know where they are. I could drill down and hit them. I know exactly where they're at. Barry Storm and I found a lance head and a drill steel seventeen or eighteen inches long near the end of the southeast tunnel. We worked half a day prying it out from between a crack in the floor. Barry wanted them and I let him carry them back to Arizona. I have pictures of them."

In September of 1995, Townsley and David Auldridge visited the Goldthwaite Eagle Newspaper office. They located articles about various searches for the treasure and Barry Storm and Mitchell's searches.

Other persons who have searched for the treasure at Dry Pond included: Alex Fernandez (from Paraguay) and Theron Bonham (who owned a helicopter). On the 13th day of January, A.D. 1976 at 11:00 A.M. Noel Cleckler and Aubrey Cleckler (from Abilene, Texas) signed a lease agreement for 149.07 acres of land out of the east part of the SW/th of Section No. 48 E.T. Ry Company survey, Cert. No. 21/431 issued by S. Crosby, Commissioner of the General Land Office, November 14th, 1863. Ed Deavors worked with the Cleckler brothers. Deavors was a dowser.

Benton Alldredge hunted. He said Spanish coins were found by an unnamed group of men. In 1948, L.M. Matlock of Richland Springs signed a contract to search for buried treasure on Proc McCullough property. D.W. Stevens and T.B. Oglesby had a contract to search for treasure on McCullough land in 1932. A news article said Oglesby and Stevens found a second copper box. Mr. and Mrs. Archer E. Allen of Port Neches, Texas, and daughter, Beverly Claudette searched. Allen claimed to have a chart and information obtained in Mexico. Jim Guthrie dug holes for thirty years on Bill Shultz land (1887-1917). J.L. White believed a Spanish mine was located on the old James Cook place. Peeler Montane, known as Mexican Peeler, claimed to have a map to a lost mine in which San Saba Peak was one of the main bearing lines. A man named Sylvester from Austin, Texas, and a man from California named Holmes used a Gold Dot metal detector at Dry Pond. Dutch Hollenback, Roch Fox, and someone named Doc, who was a battery man, searched in 1932. They reportedly found a copper box. A man named Brooks from Oklahoma searched with Guthrie and Kirkpatrick. Jim Rouse and Benton Alldredge supposedly found a copper box. In 1960, J.R. Latham and J.W. Fisher used an M-scope at the site.

Dr. Joe Woods (Abilene,Texas) may have been invested with one group of searchers. In 1959/1960, a Houston man named Phillips, J.D., Ben, and Jack McKenzie used a D7 Caterpillar in an attempt to find buried silver bullion they were convinced was buried on the McKenzie ranch southeast of Goldthwaite, Texas.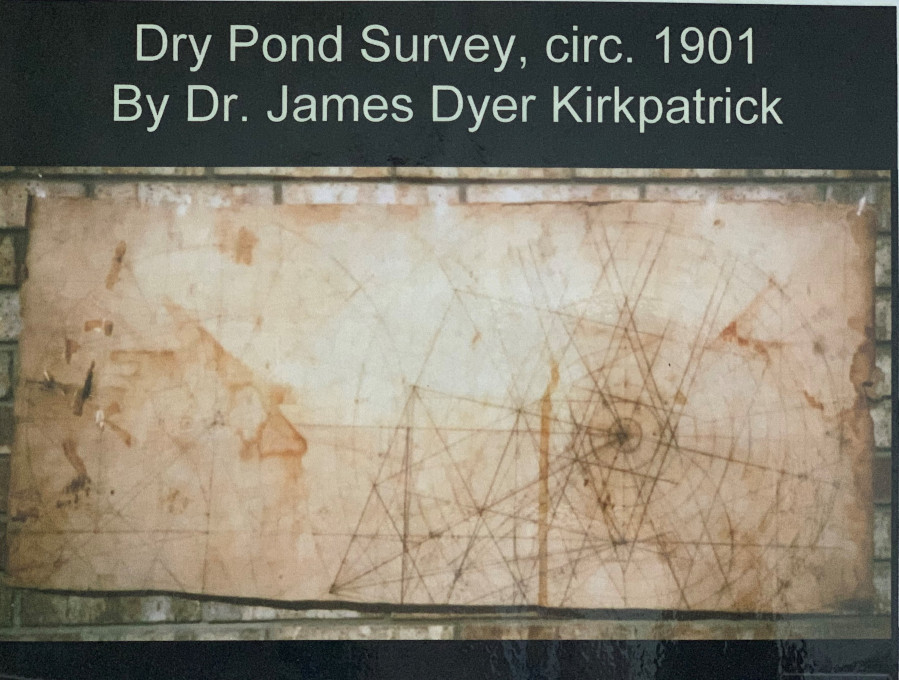 Truett Auldridge was interviewed. He owned property adjoining Double-O Smith's property (upon which the Dry Pond site is located). Auldridge had some info about a hermit who lived in a dugout near the Pond and searched. The high school kids called the hermit, Buzzard-Egg Brown. Brown died in 1940, or 1945 at the dugout. He was wearing a money belt and had $500 in it when he died.
The authors interviewed Willy Williams who lived at Grapevine, Texas, in October of 1995. Williams had some information about an old man who showed up in Goldthwaite, Texas, about 1887. The old man had a master map drawn on a buffalo skin. This man returned again in 1900 and Dr. Kirkpatrick saw the map. The old man returned a third time in 1909, stayed a few weeks and left with a team and wagon that was loaded heavy...
First photograph includes Goldthwaite, Texas, Special to the News, 5/30/1950, article - "Modern equipment is being used in the latest of a series of treasure hunts at Dry Pond..."; & original photograph taken by Jim Mitchell and given to Bill Townsley of a windlass utilized by Barry Storm and Jim Mitchell over one of the vertical shafts at the Dry Pond dig site.
Second photo: Dr. James Dyer Kirkpatrick's survey of the Dry Pond Site. Circ. 1901. Photograph was taken in 1996 by Townsley with permission of M. Kirkpatrick family during research for article that appeared in Ira Kennedy's "Enchanted Rock Magazine" (Vol 3, No. 12, February, 1997).
For more information about this interesting subject see Bill Townsley's book, OLD BIG COUNTRY, WEST TEXAS HISTORY, MORE MYSTERIES THAN ANSWERS
Article Copyright by Bill Townsley
Bill Townsley wrote this article. His author page and a link to purchase his book on this subject and others click here