Review - Texas Gold Rushes
Book Review Texas Gold Rushes – 450 Years of Prospecting and Mining for Gold and Silver in the Texas Hill Country by Raymond V. Carter, Jr. 2021.
Review by David C Lewis
Ray's author page and how to purchase his book is here
I received this book a couple of weeks ago with the intent of writing a review of it, and it has not been an easy task given the expansive scope of the book. It is really several books in one.
Before publication I was one of a few who provided some suggestions to Ray on the organization of the book, and although Ray given me some credit in the book, it really is all his. I have known Ray for a few years now and he is rare among treasure writers. He does not merely rehash what J. Frank Dobie wrote nearly a century ago—which some treasure book writers seem to do for a living. Nor does he have a hint of gold fever. Like everyone, I am sure he would be glad to find something, but the real search is after the truth, the truth of the history behind the legends and stories. I have been with him in the field on a few occasions and he would out-work someone half his age in the searing Texas summer heat. He was not so much looking for gold and silver, but for artifacts of where the Spaniards camped and of what they did.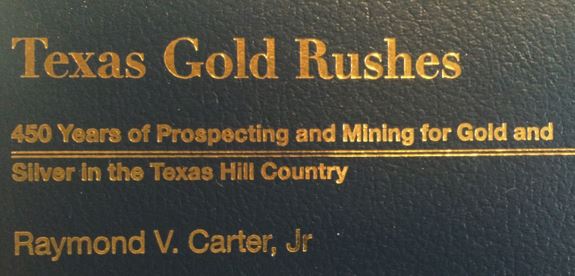 The book itself is a quality hardback with many full color photographs. It is 417 pages long, and 8 1/2" X 11" pages at that. It starts off with broad overviews of Spanish-era mineral explorations from the 1500 to the 1700's and then discusses several stories in the Texas Hill Country. Including the Nuestra Senora de la Luz Mina, the Jim Bowie Mine, and the Los Almagres Mine. There are several other chapters as well, supported by several appendices, many foot notes, and an index. It also touches on mines for minerals other than silver and gold.
The Los Almagres chapter is of particular interest. Again, Ray does anything but just repackage what other people wrote decades earlier, but instead shares original research and insights. He makes the case that Miranda's Los Almagres Mine was not at Honey Creek but rather near Pack Saddle Mountain, on the present day Stotts Ranch. Besides, well, the Spanish era mine shafts there, Ray offers original insight that ought to convince just about anyone. If this is correct, then the celebrated historian Bolton misidentified the location of the mine over a hundred years ago.
The book is highly recommended to anyone looking for the historical background to Spanish era prospecting in the Texas Hill Country, and anyone interested in well-researched chapters on several treasure legends. Legends may be a loose term here, it is really the history behind the legends.
Contents
Spanish Conquest of Texas, Gold and Silver!
The French Connection
Geology of the Texas Hill Country
Spanish and French Artifacts found in the Texas Hill Country Region
Spanish Adits-Tunnels-Mines -- 1577 - 1821
Los Almagres-the Santa Anna Mina
Nuestra Senora de la Luz Mina
Silver Mine Pass--James Bowie's Mine
Land Speculators
Alexander Hoffmann's Lead Mine of Seco Creek
Kincaid's Quicksilver Mine
John M. Whitley's Hunt for "Apache Silver"
Old Mines, Prospecting Leases and Mining Claims
Numerous Appendicies
Ray's author page and how to purchase his book is here